(To email Lina, use the contact form below.)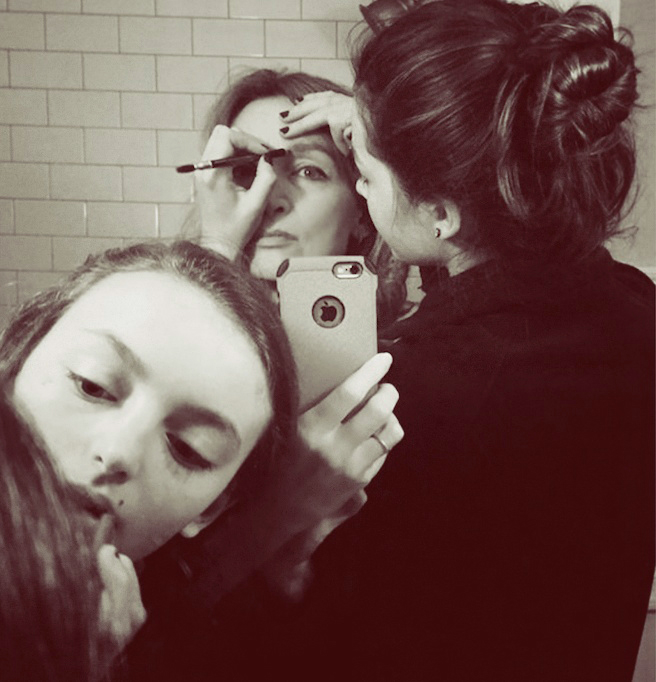 Lina Liberace (formerly Lina Chesak) is an illustrator and fine artist. She grew up in a large artistic family in Rensselaer, Indiana, and graduated from Saint Joseph's College with a degree in marketing and art. She moved to Washington D.C. where she worked several years at "Arts and Words" Graphic Design before embarking on a full-time career as an illustrator, working for a variety of clients including National Geographic, The Smithsonian, Scholastic, and America Airlines.
ILLUSTRATION
Her preferred illustration mediums are oil or watercolor with the addition of pencil or ink. Though focusing on editorial illustration, books she has illustrated include Polly Hopper's Pouch written by Louise Rampersaud for Dutton, and Charlie Muffin's Miracle Mouse written by Dick King-Smith for Crown Publishers. Her "Shepherd" Humpty Dumpty illustration is part of The Society of Illustrators' exhibition and permanent collection, Women Illustrators, Past and Present. Lina has received awards from The Society of Illustrators and The Illustrator's Club of Washington. In 2002, she was one of eight SJC alumni selected to represent her alma mater in a publication called Success.
FINE ART
In recent years Lina's focus has shifted toward painting and sculpture where she enjoys painting from nature and combining realism with whimsy. She has two paintings and a drawing in the In 16th Annual Art Renewal Center Salon and Show, 2023. She is a participant in The Principle Gallery of Alexandria, Virginia's "Small Works" show each December with along with her husband and two daughters. In August 2016, her "sgraffito/granito" (old Italian style) gilded frame and her painting to go with it were featured in Picture Framing Magazine's article "Gilded Magic," written by Master Gilder William Adair (see link below). Her recreations of "worn" shoes from past centuries can be found at Baileywycks in The Plains, Virginia. Lina occasionally teaches sculpture to both children and adults.
Lina and her husband, artist Robert Liberace, internationally recognized for his portrait and figure work, have two very creative daughters and live in Virginia. Their family Instagram page is LiberaceArt. Their work is currently displayed at The Principle Gallery, Alexandria, Viginia.
Selected Press:
Kathleen McDermott. "From Portraiture to Illustration: And Interview with Robert Liberace and Lina Chesak-Liberace." Plaza Artist Materials' Plaza Art Blog, November 2016; https://www.plazaart.com/blog/liberace-interview/
William Adair. "Gilded Magic." Picture Framing Magazine, August 2016, pp. 24-28; http://www.pictureframingmagazine.net/portals/0/pfm/pdfs/2016/Aug_16/Aug_16_Sgraffito.pdf
Debby Bird. "Painting Parents – Rob and Lina Liberace." Painting Parents Blog, May, 2016;
http://debbybird.blogspot.com/2016/05/painting-parents-rob-and-lina-liberace.html?m=1
Annette Goings. "Exploring the French Quarter Art Walk in Charleston, SC." Living the Artful Life Blog, November 2014;
http://www.livingtheartfullifewithannettegoings.com/2014/11/exploring-french-quarter-art-walk-in.html
Hope Katz Gibbs. "The Art of Motherhood." Elan Magazine, February 2006;
https://hopegibbs.com/article/309/lina-liberace-the-art-of-motherhood-elan-magazine
Exhibitions (fine art):
January 2023, The Art Renewal Center Annual Salon Competition, drawing, animals, and still life: one finalist and two semifinalists
December 2022, The Principle Gallery, Alexandria, VA – Small Works Show
December 2021, The Principle Gallery, Alexandria, VA – Small Works Show
March 2021, Artists in Middleburg Exhibit, Middleburg, Virginia – Birds, Birds, Birds
December 2020, The Principle Gallery, Alexandria, VA – Small Works Show
September 2019, Tippecanoe Arts Federation Building, Lafayette, IN – Goddesses, Totems, & Other Investigations
January 2019, Art Ovation Hotel/The Southern Atelier, Sarasota, FL – Renaissance of Passion: A Figurative Exhibition
September 2018, The Carnegie Center/Prairie Arts Council, Rensselaer, IN – The Art of the State, The State of the Art
January 2018, North End Gallery, Leonardtown, MD – Invitational Exhibition
December 2017, The Arts Barn, Gaithersburg, MD – Mid-Atlantic Silverpoint Exhibition
August 2017, The Carnegie Center/Prairie Arts Council, Rensselaer, IN – Roger Beehler Legacy Exhibition
January 2017, Montgomery College, Germantown, MD – Both Sides Now
November 2016, The Art League of Virginia, Alexandria, VA – The Artistic Frame
October 2016, Richeson's Art Competition, Kimberly, WI – Animals, Birds & Wildlife
November 2014, The Principle Gallery, Charleston SC – The Ties that Bind (with Robert Liberace)
May 2014, Louis Stokes Health Sciences Library, Howard University, Washington DC – Anatomy Art Show, Robert Liberace and Students
February 2012, Richeson's Art Competition, Kimberly, WI – Small Works
Contact Me